I'm happy to say that my dad was able, in some way, to help the Filipinos, and if his dream of the Filipino having a better image than what it was then, that is his legacy.

World War II was a turning point for Filipinos. Eager to prove their patriotism, Filipinos volunteered en masse to fight against the Japanese. The 1st and 2nd Filipino Infantry regiments were formed, and these wartime efforts led to improved status for Filipinos. My grandfather, Delvin Bohulano, he volunteered, and he was in the

Filipino

infantry regiment.

And he was involved in that mass nationalization ceremony that you see pictures of thousands, of Filipinos lined up taking their citizenship oath.

With citizenship, now you can buy land, (and) now you vote. This is an incredible change for Filipinos. After World War II, the Filipino community, like the rest of the nation, flourished and took new shape. A larger number of Filipinas start coming in because they are (were) war brides. Men who fought overseas in the 1st and 2nd Filipino regiments, when they go back to the Philippines there is an opportunity for them to meet and marry young Pinays

https://casinoslots-sa.co.za/citadel

.

Young families, better financial possibilities and a new identity as American citizens all created a sense of community and belonging that hadn't existed before. Little Manila was no longer a bachelor society. It became a gathering place for Filipino families. Well, the sports that the Filipinos had back in those days, was very few.

So we decided to get our own team up. And so each town would get their own basketball team: Livingston, Sacramento, Vallejo, San Francisco, (and) L.A.

We'd get together and have a tournament: all of us guys. It was we'd get to know each other, (and) meet new girls, you know? My dad had this queen contest going on for a Miss Philippines. The queen contests were popularity contests: you had to sell votes, and they were a dollar a piece. The fraternal organizations would use this as a fundraiser.

Actually that was a big moneymaker at that time. Anita was one of the most beautiful mestizas that I have met, and Anita was one of the candidates. And she won. What did I do with the money? I actually bought furniture for our home. I bought a stove, a dining room set, and a living room set with the 800 dollars.

The work of thousands of Filipinos went into making California's heartland what it is today, a multi-billion dollar agricultural industry that makes California the fifth largest economy in the world.

Yet few people are aware that Filipino farm workers played a crucial part in one of the great labor movements of American history: collaborating with Cesar Chavez. The conditions in the fields were amazing (for) what these guys put up with.

A gentlemen by the name of Larry Itliong was in Stockton, and he was part of the labor movement to get Filipinos involved in this whole issue of unfair labor in the fields. (In) 1965 where (when) people think, wow, United Farm Workers, Chicanos, started this movement. But actually it was the Filipinos that dragged the Mexicans into the labor movement. Filipinos from Sacramento, Stockton, (and) the central valley are basically following the crop rotation. They're down in Coachella Valley.

They get to Delano. And so the workers were kind of upset already about what's happening, considering that they came from Coachella, and they were getting $1.40 there. And here in Delano it was $1.10. (If) Filipinos go out on strike, (then) big problem. The Mexicans are going to become the strike breakers, So Itliong goes up to Chavez and says, "Look, we need your support."

And Chavez says, "No, I can't give you my support." Itliong says, "Why not?" Chavez says "I'm not ready. We'll wait 2-3 more years." Itliong says, "No.
Powered by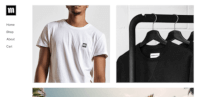 Create your own unique website with customizable templates.